So, we're in day 33 of Elvenar Orcs chapter (see previous day at Elvenar Orcs – Day 32). I am now in the final stretch of Orcs and Goblins chapter. After today, only final AW research stands between me and Advanced Scouts research for the Woodelves chapter. But it didn't all go smoothly, read more about this below. I guess this is something that qualifies as "unexpected happens" (see my yesterday's post), but I believe I can still avoid using any Portal Profit spells without slowing the progress.
There are no changes in the city layout today, all the builders are still idle. When I activate another expansion I may drop a few residences for temporary pop boost. That's to jump start a couple of slow upgrades to workshops. But this is already in plan for the next chapter 😉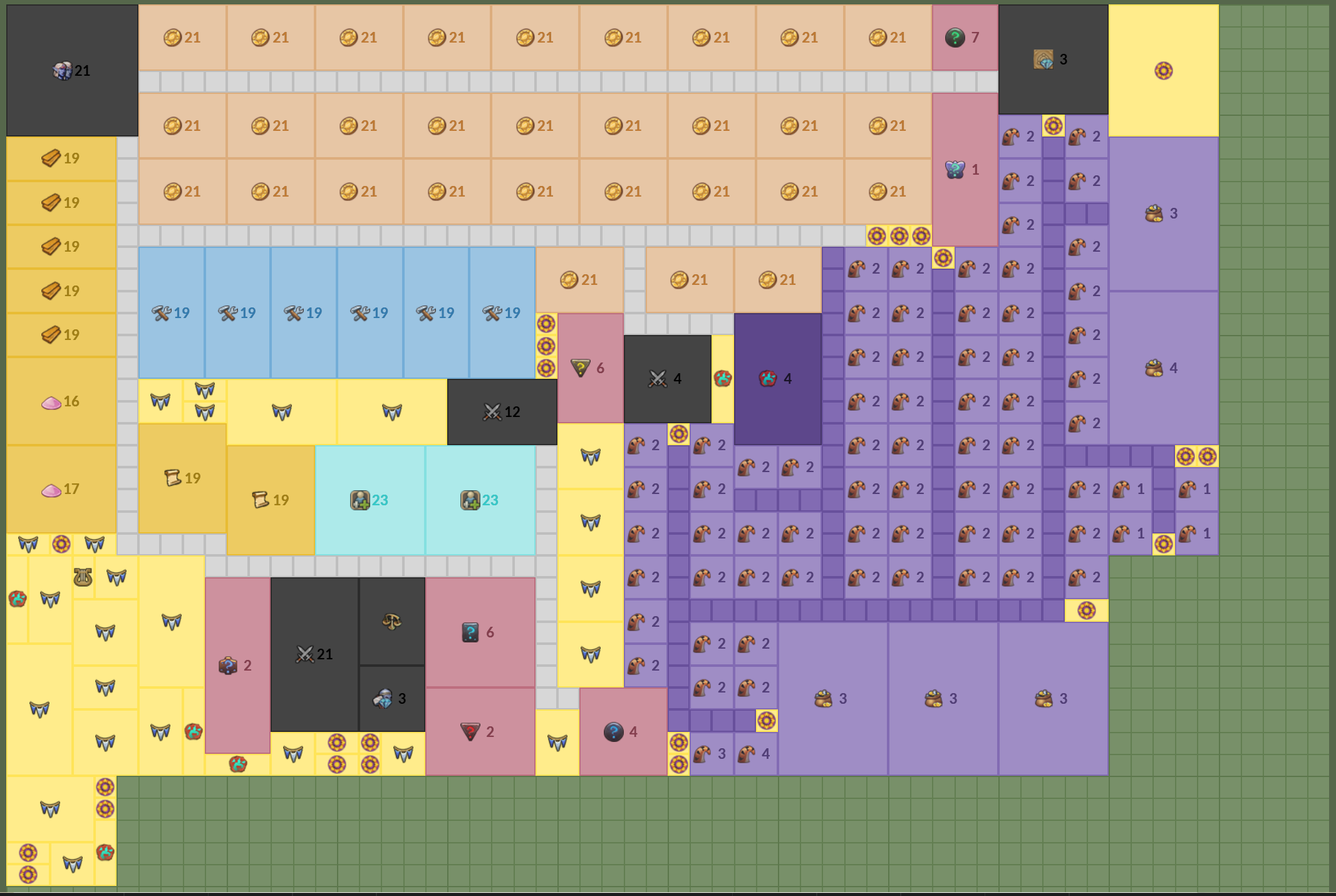 Gems Tournament – 5*, 6* and 2* KP harvesting day
Today was the biggest tournament day – 12 provinces to 5*, 9 to 6* and 8 provinces (13-20) to 2* for that juicy 5 KP per province haul. That's a lot of KPs that closed both Sinister Cerberus and Squad Size Upgrade 27 techs. As usual, I had to cater 2* provinces as troops are all gone after 5* and 6* cleanup. This means that this is the lowest point in terms of goods, yet it doesn't seem that bad this time around.
I managed to postpone activating SS upgrade until after the tournament was over. I've made this mistake once, and that immediately boosts your remaining catering costs; this way I can hold off until next week. Still, I really dislike taking SS upgrades…
Elvenar Orcs research goods
There is always something that doesn't go according to plan. So, I thought I was running ahead of schedule in research goods production. Well, it turns out my calculations didn't include required shrooms of wisdom for City Expansion 35. And that's a lot of shrooms – a thousand. That's the danger of using analysis that is not peer-reviewed 😉 I hope to rectify that with posting more of the actual calcs.
So what does that mean for the progress? Actually, not much. So instead of running way ahead of schedule, I am running just slightly ahead of schedule. And the biggest issue is not even SoWs (there is plenty of available farms now), but dung and psychoshrooms that I stopped producing as I though I was done. So now I had to start a bunch of psychoshrooms which will take 24 hours to complete, and then dung production will take 3 hours cycles at rally points. Only then I can restart SoW production that will take another 2 days.
This doesn't hamper progress though as I just started dropping KPs into Orcs and Goblins AW, and this will take 105 KPs. Tournament is done, so for several days KP production will be low. Also, this 1000 SoWs for expansion is on a dead end of the tech tree, so I don't need to activate it right now, and can keep working on that when AW tech is done. I don't need an extra expansion right now. Still, I should be paying close attention to details and double-check the calculations.