So, we're in day 24 of Elvenar Sorcerers & Dragons chapter (see previous day at Elvenar Sorcerers & Dragons – Day 23). Another blowout tournament day, and not in a positive way. We have run out of troops before we finished 2* stage. Current setup is simply not working. It is time to make some changes…
City changes
Relatively quiet day today with the city reconstruction. I am continuing upgrading residences to L25, but I am running out of residences to upgrade without doing some re-arrangements. This would mean likely discarding some of the 2-day productions in temp L1 manufactories that I carried for days now. This Challenge event better start soon 😉
I am also upgrading Training Grounds, and may consider accelerating this process with the time boosters given then recent tournament performance of barracks units. We may need those Training Grounds after all!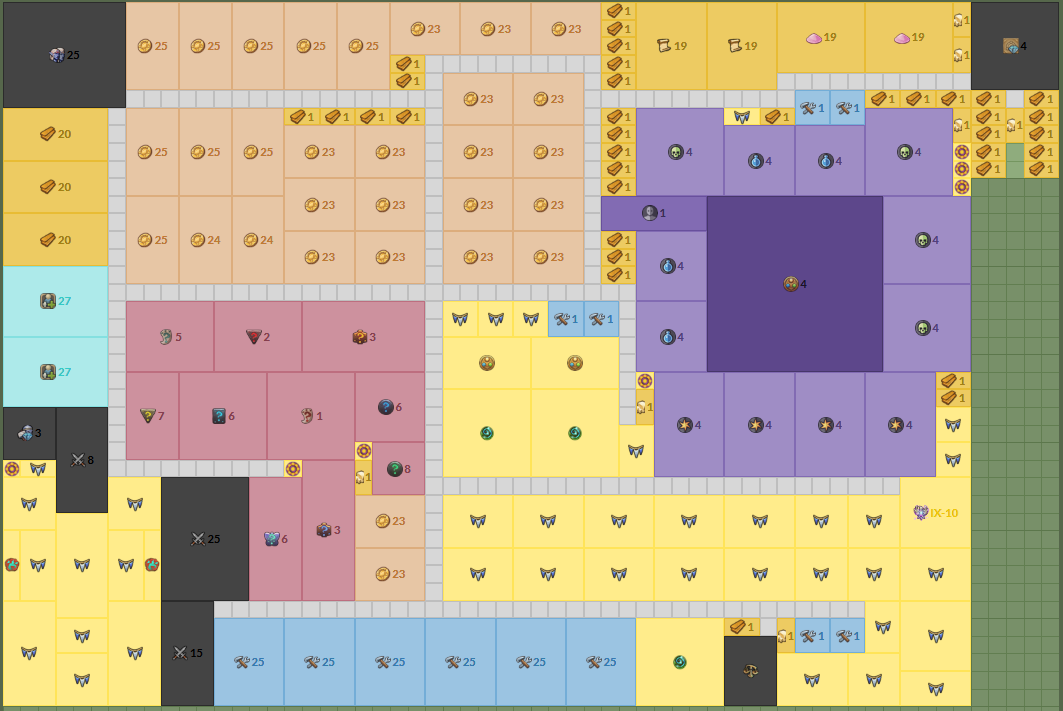 Elvenar Sorcerers & Dragons progress
As anticipated, today we have activated the last of the T2 manufactories upgrades – silk. This means that we have opened Squad Size Upgrade for research. About time, too, as there is nothing else open right now to dump KPs into. Take a look at the research tree below: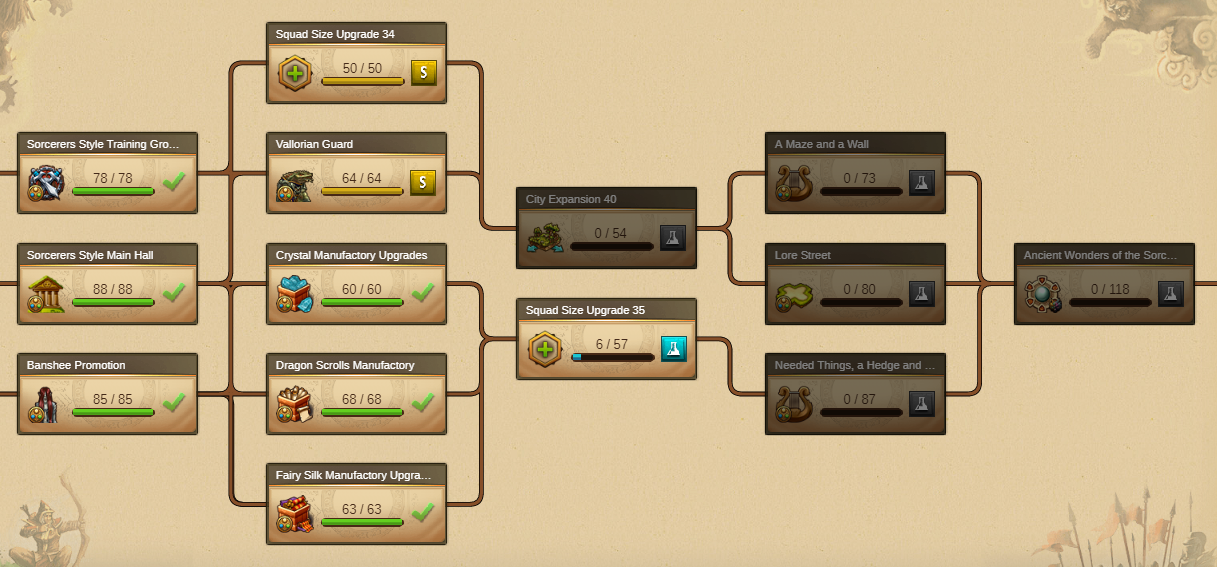 So yeah, we're quickly approaching the wall here as we're not really close on the needed resources for unlocking those techs. Within the next day or two I expect to run into a tech lock situation that will need to be resolved with Portal Profits. Right now, we're still about 13 days behind schedule. We knew it was inevitable, so the question is, how much will we need to dump to progress further?
To that extent, I have added another metric – "PP to Finish". This basically takes all remaining resource needs right now, and converts them into corresponding portal profits amounts. So right now, we would need 440% worth of portal profits in order to close all the resource requirements left for the chapter.
It doesn't mean that this is how much we expect to actually deploy. We still produce the resources naturally, and it will count against this number. The good news is, I already have enough PPs to cover the whole amount. Realistically, I expect us to spend maybe half that in actual portal profit instants. We will see…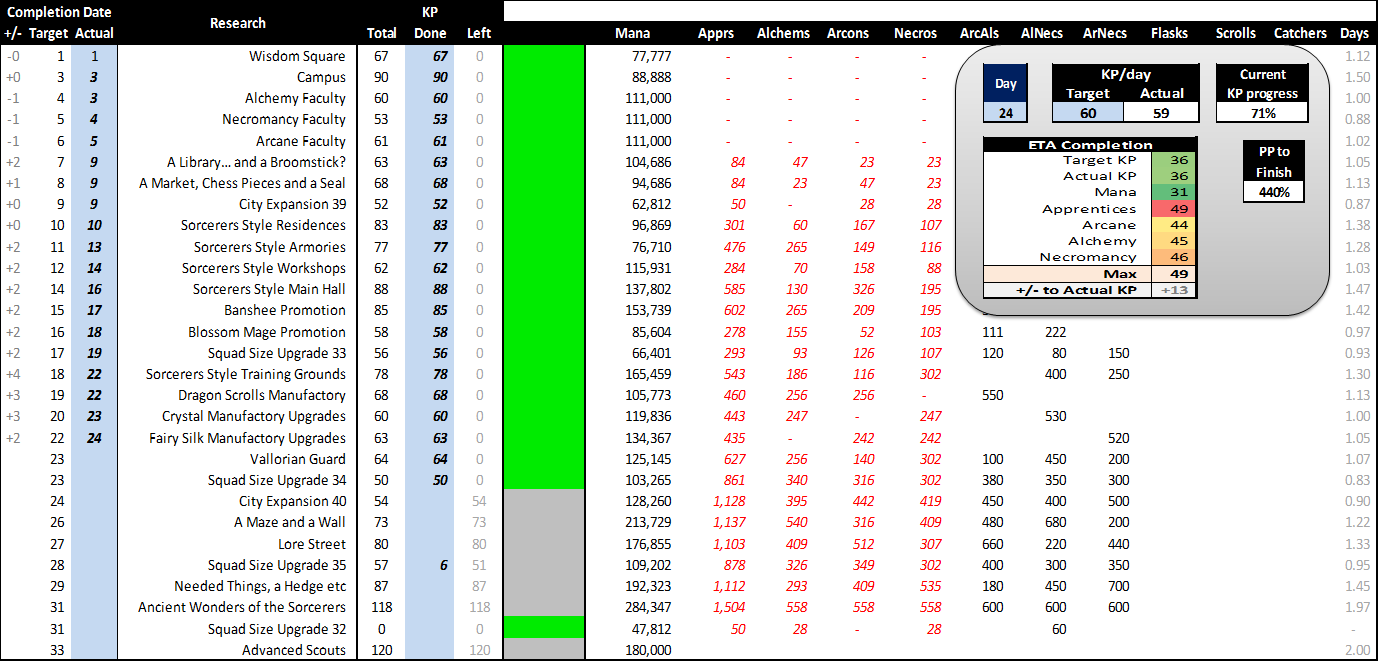 Gems Tournament – 2* and 3* day
And the results from 2* and 3* stages confirmed what we saw on day 1. Those losses are brutal. I have already ran out of troops fighting 2* stage and had to resort to catering encounters. I ran 3* stage entirely with recovery troops only. In 3* we only go 12 provinces, but even then I had to cater all encounters with 2+ counterunits (vs usual 3+ only).
Now I am reverting back to the best value deployments that I used to do a while ago. Basically, when you don't expect your troops to last through the whole round you fight the easiest encounters first (across all target provinces). To simplify, I go first fight all encounters with no counterunits, then the ones with 1 counterunit, and then the ones with 2 counterunits. At some point you run out of troops, and cater the rest. This way you use your troops more efficiently (and reduce defeats), and reduce total catering costs.
With that, I think we did indeed run into Bud Sorceress limitations in these tournaments. They just don't work anymore even with my fightings boosts, you just can't produce enough troops – even with barracks speedups. It is time to try the alternative. I need to accelerate upgrades to the Training Grounds (up to L16), and then I will switch to Banshee II. It will likely still be slower to produce than Bud Sorceress, but they may perform sufficiently better to offset that. I have to try it as current setup is not really working. Hoping to see some positive results tomorrow…