So, we're in day 25 of Elvenar Sorcerers & Dragons chapter (see previous day at Elvenar Sorcerers & Dragons – Day 24). And it was quite a hectic day today. A manufactring Challenge mini-event has finally started. Our shantytown helped – a lot! And today I was planning to switch to Banshee II units in fighting the tournament as Bud Sorceress was a disaster. Did it work out? Let's find out…
City changes
Just as I mentioned yesterday, I had to fast track Training Grounds upgrades as I was switching to Banshees for the tournament. So I had to burn a few time boosters to insta-complete all the remaining upgrades all the way to L16. Did I tell you that I love time boosters? They are awesome, and I have quite a decent stash after the last event. So Training Grounds are all done for now.
But that was not the story of the day. An observant reader noticed that there is a disturbance in the force… eh, I mean in the shantytown. A few of those L1 temporary buildings are gone. And no, that's not because I ran out of other options and had to sell some to clear out the space – even though that was pretty close. This is because the Challenge event finally have started!
And man, all this waiting was so worth it. I have dumped all my stored 2-day productions, and basically got almost half-way through the event, barely missing second-to-last prize. In the first 10 minutes! How awesome is that? So now, I have to close the rest with the 3 hour productions, and for that I need road connections. So I have no use for disconnected manufactories – those are the ones that I removed.
I project being done with the Challenge by tomorrow, and will get another Phoenix Artifact as the main prize. Incidentally, it is pretty useless to me at the moment as I evolved my Fire Phoenix up to L10 during the last long event. So another Artifact will only get me to L2 on another Phoenix – nah, this is definitely not worth it. In any case, I am looking forward to demolishing this shantytown as early as tomorrow.
Elvenar Sorcerers & Dragons progress
We're getting closer and closer to running out of options on deploying incoming KPs. And remember, tomorrow is going to be a relatively big tournament day, so we'll get quite a bit of KPs – again. So take a look at this: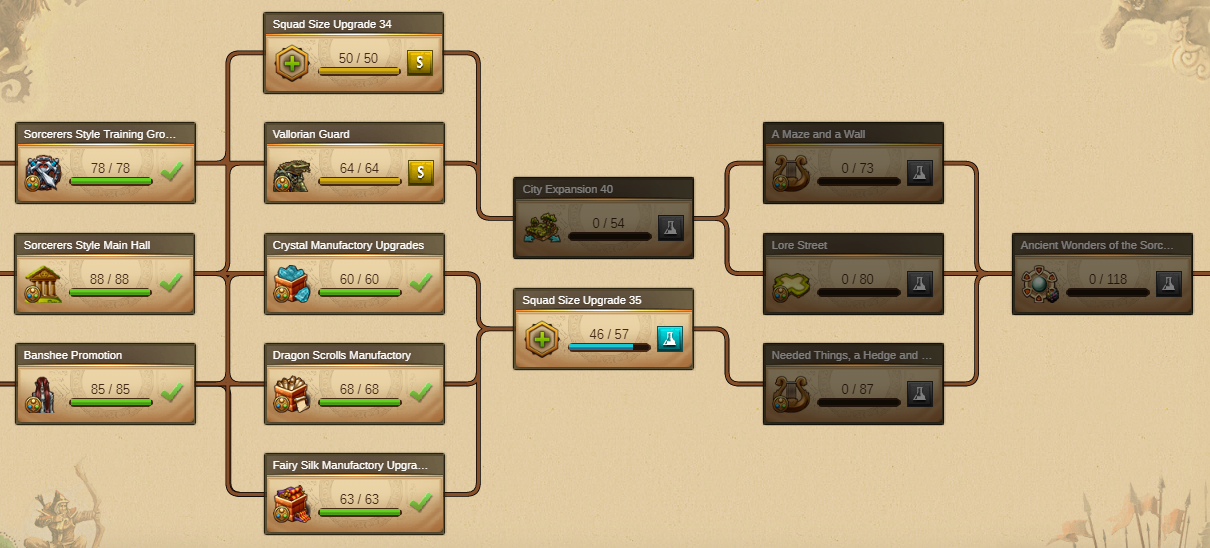 And we definitely don't have sufficient research goods to unlock any of the outstanding techs.This means that tomorrow we will start dropping some Portal Profits, and by all projections quite a significant amount.
So far, we're behind on our production by almost 2 weeks. It would be interesting to see how this delay will be impacted by the PPs. I mean, it will obviously go down, but by how much? We will see.
And I would really like to avoid activating those Squad Size upgrades before the tournament ends tomorrow. I can probably avoid it for the 5* stage, but I don't see avoiding this for 6* stage given the amount of KPs we will get in 5* stage. Oh well.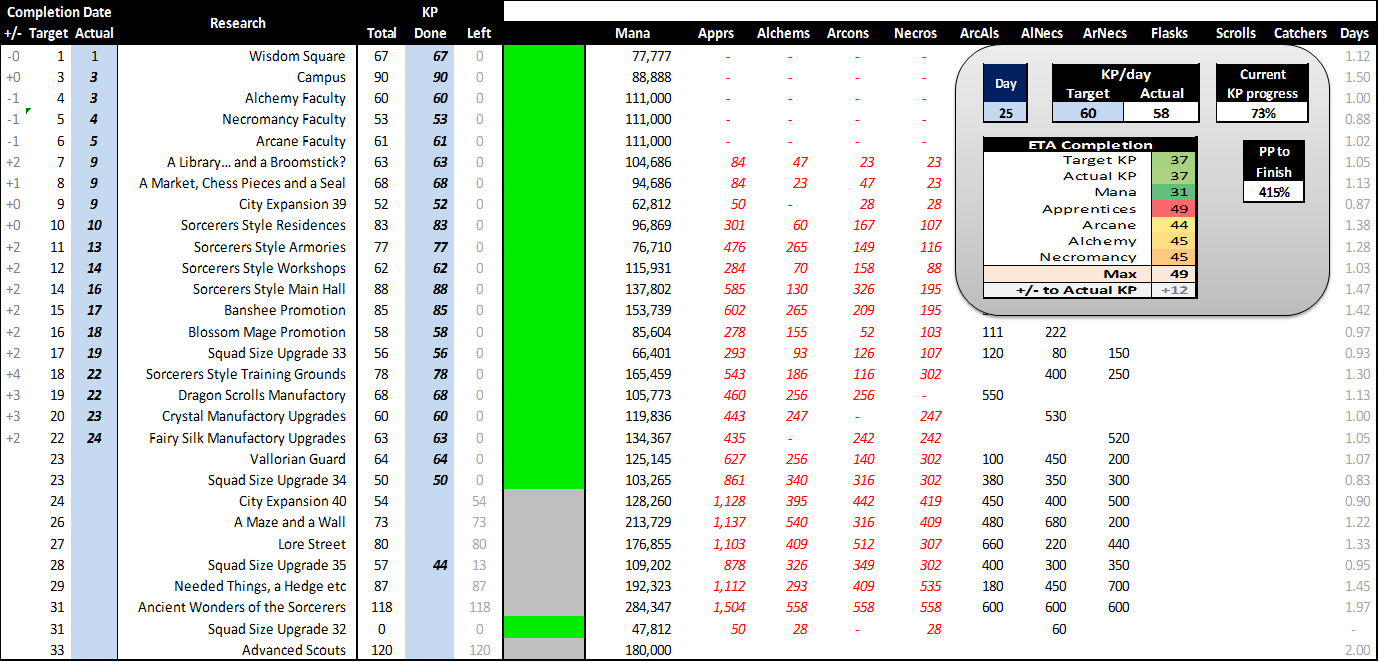 Gems Tournament – 4* day
Just as I mentioned yesterday, I am switching from Bud Sorceress to Banshee II as a primary unit for the remainder of the tournament. And with fast-tracked max upgrade to the Training Ground, the TG units are now quite viable. Remember last time around we considered them? The difference was between ~70 minutes for barracks units vs whopping ~120 minutes for the TG units. This was a clear no-go.
But look at the training times now. I can produce Banshees in L16 TG in less than 80 minutes! This is still slower than barracks units, but just slightly. Now it's all about how do they perform on the battlefield.
And the results are in. The experiment is a success! Of course, we haven't had a stockpile of units at all, so we had only to deploy what we managed to recover in between the rounds. Which was about 19 squads. And of course we massacred them all, and still had to cater the rest. But! Look at the stats for 4* stage – which is more difficult that stage 3* where we deployed Bud Sorceress. We have completed the whole stage with just slightly more catering (33% vs 27%), but we've lost noticeably fewer troops – 19 squads vs 24.5 squads. Remember, this is for the more difficult tournament stage!
So this is quite positive result, all things considering. Not nearly as good as the best tournaments with ranged units as primary (see Elixir tournament results). But so far this switch looks like an improvement. Let's see how it will all work out tomorrow, before we jump to conclusions. I am optimistic. I have to be 😉