So, we're in day 10 of Elvenar Sorcerers & Dragons chapter (see previous day at Elvenar Sorcerers & Dragons – Day 09). We just went through the heaviest tournament day today. Was yesterday's performance in 1* stage a fluke, or have we indeed turned on the beast-mode? Or should I say Phoenix-mode? Let's find out…
City changes
Yesterday, our university Faculties were all at L2. Today, almost all of them are at L3 – except for 2x Necromancy Faculties. This is nice, but we need to get all of them to L4 ASAP. We need to get Wisdom Square to crank out those apprentices at the max rate! We're close though. 1-2 more days, and we can finally switch into producing graduates and double graduates. You know, what the university was meant to do 😉
And finishing with the settlement upgrade means we will be able to deploy builders on other projects. So far, they've been working on the settlement 24/7. And we already have researched some new upgrades to keep them busy – in particular, residence upgrades. But we also need to convert Weeping Willows into Arcane Libraries, and build/upgrade some Ancient Wonders. Buildings have their work cut out for them 😉
In the meantime, I did some layout cleanup, and now it looks very close to the final. The residences area will stay roughly the same, but the buildings change quite a bit. Mana producing area will also stay roughly the same, but will have Arcane Libraries instead on Weeping Willows. There will be a few other changes (armories/T2/Training Grounds), but those would be relatively minor. Anxious to start implementing upgrades in the rest of the city!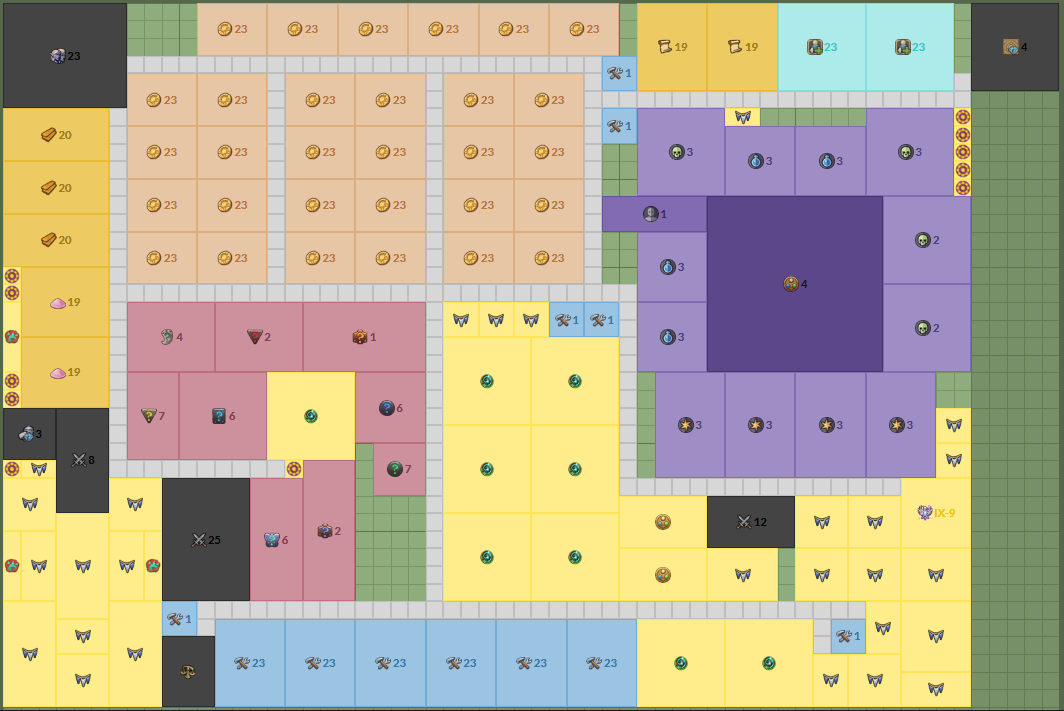 Elvenar Sorcerers & Dragons progress
We've got a ton of KPs today from the tournament, as I did not split 2* KP farming stage into two. There is no need to delay KPs right now as I have plenty of KP sinks. I think 😉 Bottom line is today we have unlocked residences upgrades. This was primarily for the quest, as non-declinable research residence upgrade quest was blocking another non-declinable quest. The one that requires you to produce 20/20/20 collections of upgrade goods. And I am getting close to finishing all the upgrade goods productions already, and don't want to produce unnecessary goods. Or getting blocked on the quest line until the next chapter (not the end of the world, but it's better to avoid that).
And the good news is that we were almost there with the research goods requirements from deploying quite a few portal profits for a quest yesterday. I just dropped another 5% PP to clear it, and now we can start upgrading residences. When I have builders available, that is. So far, I've used 50% worth of Portal Profits. Pretty good, but our projected ETA is still almost 20 days behind the KP ETA. Lots of work here…
With all those KPs we have also filled in armories upgrade research and started to work on workshop upgrades tech. Not in a hurry to unlock those. Hopefully, by the time I get close to having to unlock next research I will finally be in the research goods production mode. We're pretty close, but we still need to finish settlement upgrades. Almost there!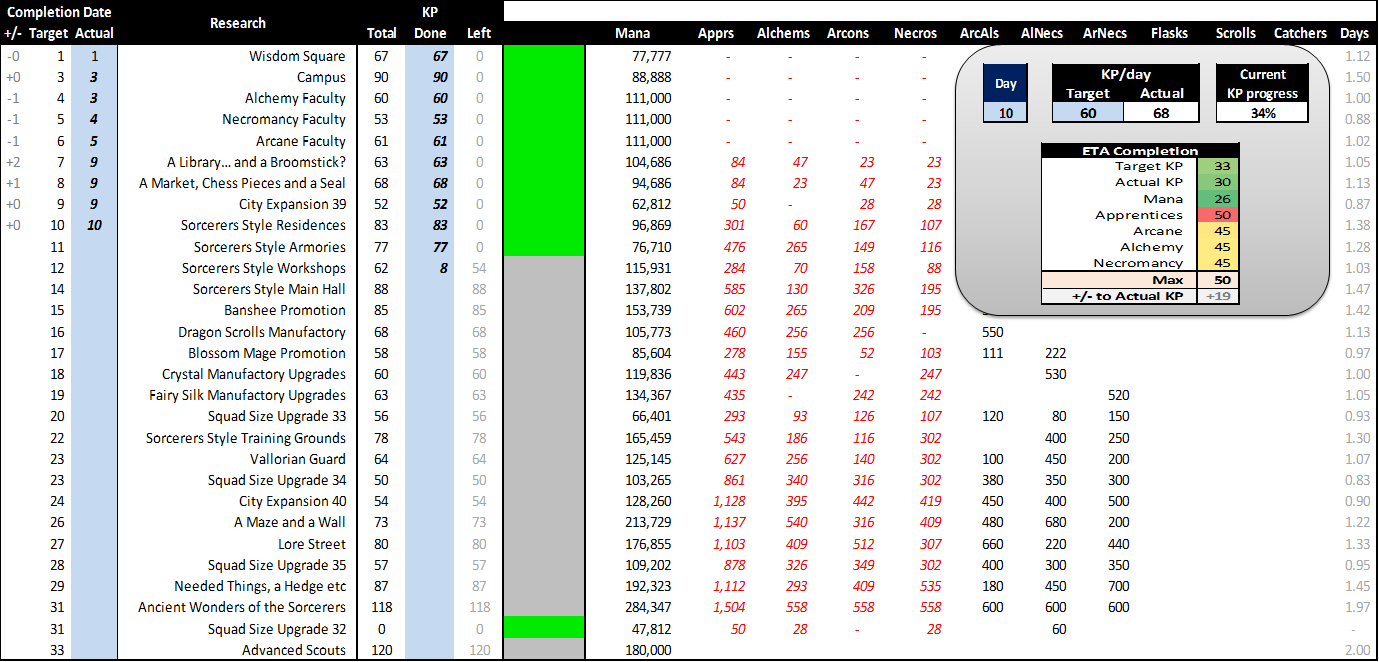 Elixir Tournament – 2* and 3* day
Fire Phoenix continues to dominate the tournament – and we even bumped it up from L8 to L9 (40%->45% damage increase). Full 2* stage losses were only 31 squads – and this is the stage where I usually have heaviest casualties in absolute terms! Awesome sauce.
Indeed, as I anticipated, we managed to recover pretty much all the losses from 1* stage in time I started 2* stage. And now, when we switched to 12 provinces, losses look almost immaterial. I've lost only 13 squads at 3* stage. I am pretty certain that I will start 4* stage with more troops than I had for 3*. We're actually accumulating troops during the tournament. That's amazing!
And so far, there were no defeats. Well, that's anticipated for this tournament and stage. This means all the catering comes from encounters with 3+ counterunits. And we have about 15% of those so far – about 1:7. Interesting, it is higher than it feels. I am curious to see how this stat looks across different tournament types. This may explain some variability of the losses. And between research and catering, I am getting hit on T2 goods. Nothing I can't handle, but 4 more upgrades to my scrolls manufactories that should happen later in this chapter would be quite welcome.
In the meantime, I am quite confident that this tournament will be just fine. Interested to see the final stats though – does the improvement translates into the later rounds in the same way? We will see…