So, we're in day 19 of Elvenar Woodelves chapter (see previous day at Elvenar Woodelves – Day 18). Mana is all out, Forest Fabrications drain it soon as I collect more. This mana tears production scoops in all the mana as an enormous vortex. So is it all falling apart? Can we recover from that shortage? Only time will tell…
City changes
The Woodelves settlement continues to expand and evolve – it is now 11Lx/3/4/3 vs yesterday's 14L1/2/2/1. We keep building grafting sites, and I've got 2x Forest Fabrications upgraded to L2! But I also had to remove 3x L1 FFs to clear the space for the grafting sites. Just as planned!
Now, I decided to do more planks GS now (vs balanced 3:3:2 setup) because I noticed that right now we're short on refined planks for the FF upgrades. That's because we started later with this GS type. Planks GS are also the slowest to build, so makes sense to start building those a bit earlier.
And just as anticipated, I ran out of mana several times. I collect from Willows every 6 hours (5 hours is minimum, and I do 6 to coincide with 3 hour production cycles). This brings in about 13K of mana – which is pretty much exactly the same as the whole current FF complex consumes producing mana tears in 3 hours! Yep, this means that second 3 hour production uses mana from the inventory, and there is only so much extra (about 40K daily). So we've had some production gaps where several FFs were idling until the next mana collection from the Willows.
So reduction in number of FFs didn't really impact production by itself – we just removed some excess capacity (vs mana supplies). Unfortunately, this also means that we're below target production for FF. Right now we have 12 L1 equivalents (2x L2 = 3x L1), but our target production is 16 L1 equivalent (1x L3 = 2x L1). As we won't be building more FFs, we will need to focus on upgrading those ASAP…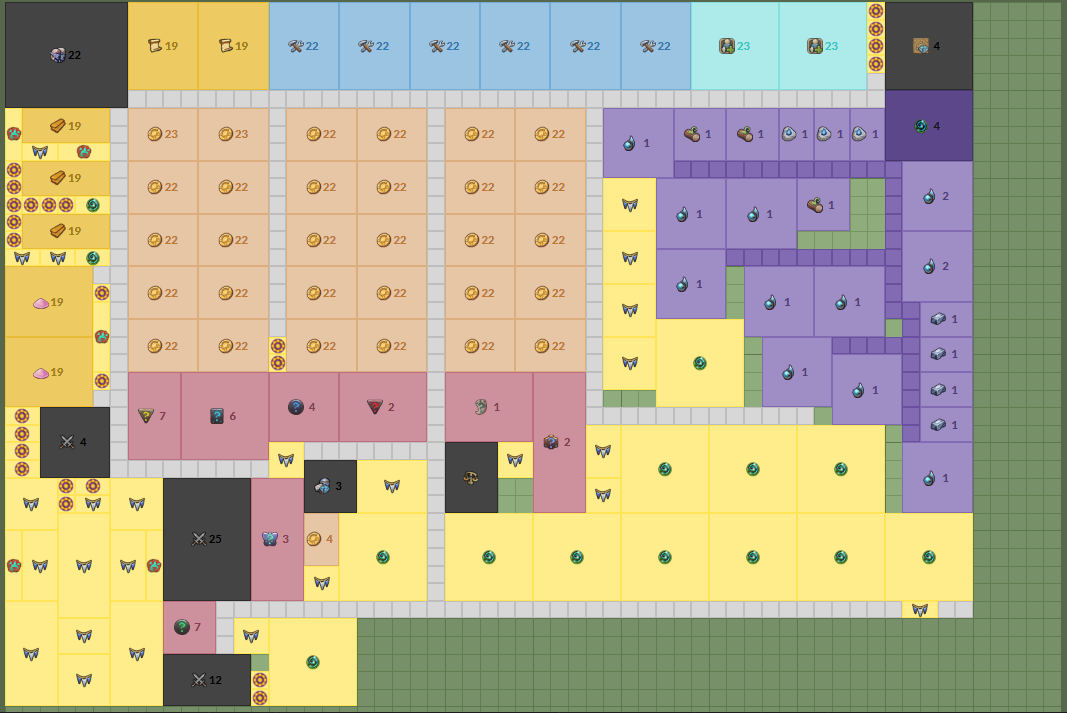 Elvenar Woodelves progress
Managed to hold keep KP inflow low today, so we've dropped to 63 KP a day average. Still, open research items are filling in fast. City Expansion 36 is finished, and we've started on Dryad Promotion. I haven't unlocked expansion research yet as it needs 20K of mana, and I am trying to hold off any mana expenses for as long as possible. Basically, will probably drop it when will have to move the next willow (instead of cutting it).
20K of mana doesn't sound like much, but I've been running at pretty much zero the whole day. Everything is consumed by this mana tears production, and it will still be going for a couple of days. Will have to conserve mana in any way I can in the meantime.
ETAs still look good, but Forest Fabrications started to drop. This is somewhat expected due to construction/upgrade times, and I planned to address those discrepancies with portal profit instants. The question is how much will we need…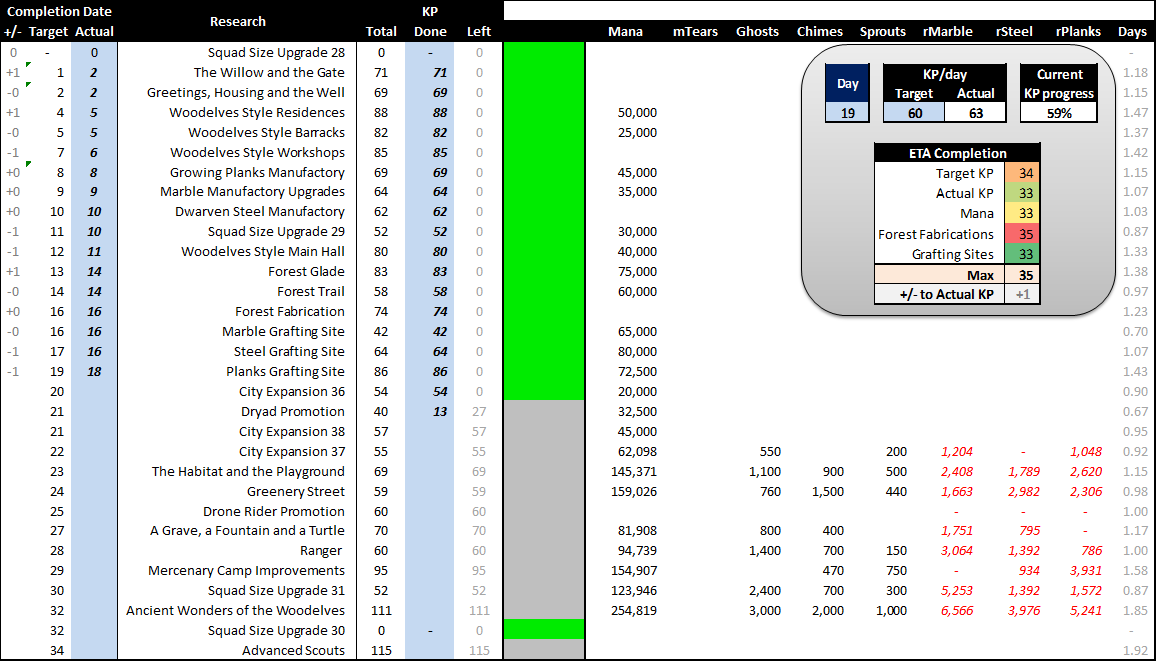 Crystal Tournament – recovery and preparation
Recovery mode is on from the tournament perspective. Next on the list is crystal tournament, and I am going with Elder Treant as my primary unit. Already got about 50 squads, so basically going on regular schedule. Got an Enhanced Light Range building in the Magic Academy, and crafted it. This one is not the most useful temporary boost building – not that many tournaments use light range units as primary, plus I have Needles of the Tempest AW L7 which provides 13% damage boost already.
Still, temporary fighting boost buildings are probably the most valuable items that I can craft in the MA. It is just that Unleashed Unit Upgrade is so much more useful! Have a small stash of those, but snatching those up any time they show up. That's why it's important to keep several combining catalysts in the inventory at all times!