So, we're in day 21 of Elvenar Woodelves chapter (see previous day at Elvenar Woodelves – Day 20). We're getting close to finishing construction of Woodelves settlement according to our plan. And then there will be production phase. But will we have enough time to ramp up production fast enough to avoid using portal profits? This is going to be close, very close…
City changes
The Woodelves settlement continues to expand and evolve – it is now 9L2+/8/8/5 vs yesterday's 10L1+/6/6/4. We're only missing 1 grafting site of each type to reach our target of 9/9/6! If everything goes according to plan, we should reach this milestone tomorrow. You know what else does that mean? No more mana tears production! That would be awesome, as it is a huge drain on mana supplies. Finishing up all the grafting sites will require moving out the final willow, and we should be in a position to do so very soon. There are research expansions that are getting really close to completion!
We've dropped another one of the L1 Forest Fabrications, but now we've upgraded all FFs to level 2, and 3 of them to level 3. So we're only 5x L3 upgrades away to get to our target of 8x L3 FFs (we'll need to drop the last L1 FF to clear out the space).
It feels like we're past the tightest spot in our implementation plan. We'll need to clean up remaining items as per above, and then we'll get back to the rest of the upgrades in the city. We had this process on hold all this time while we solely focused on building and upgrading the settlement. Now we will have builders available to do other things!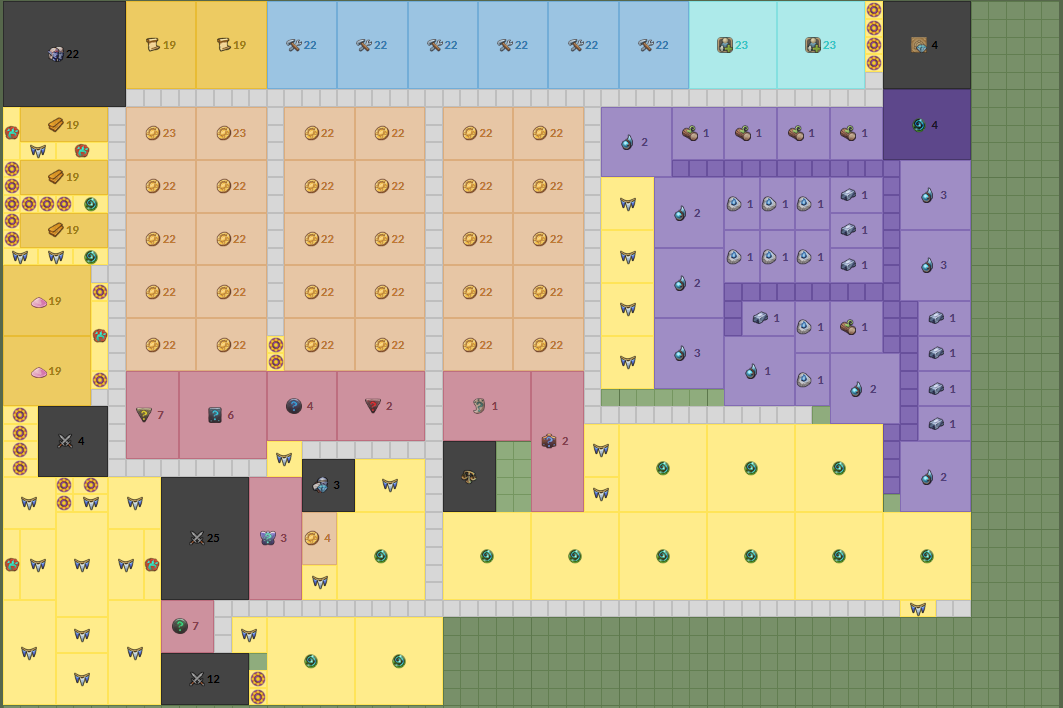 Elvenar Woodelves progress
Things are starting to look better, but we're not out of the woods yet (pun intended 😉 ). Good news is, today I didn't have to idle any of the Forest Fabrications due to insufficient mana. It was really close, but we managed to get by – even after spending mana to unlock Dryad Promotion. Tomorrow should bring the end of mana tears production, and research goods manufacturing seems to be significantly less mana-intensive.
Today is the last day of relatively low KP inflow, so we've down to 61 KP a day average. I am still amazed at how accurate my initial projection of 60 KP/day was 😉 We'll see if it still holds – tomorrow a new tournament will start, and this will bring more KPs. Let's see if we can delay those inflows to make sure that our research goods production capability is fully operational, and we're getting mana surplus.
As anticipated, I had to unlock Dryad Promotion, and now I have a few KP sinks that should last me a day or two. All the remaining techs outside of City Expansion 38 require research goods, so I wonder if this lead time will be enough to get sufficient research goods inventory.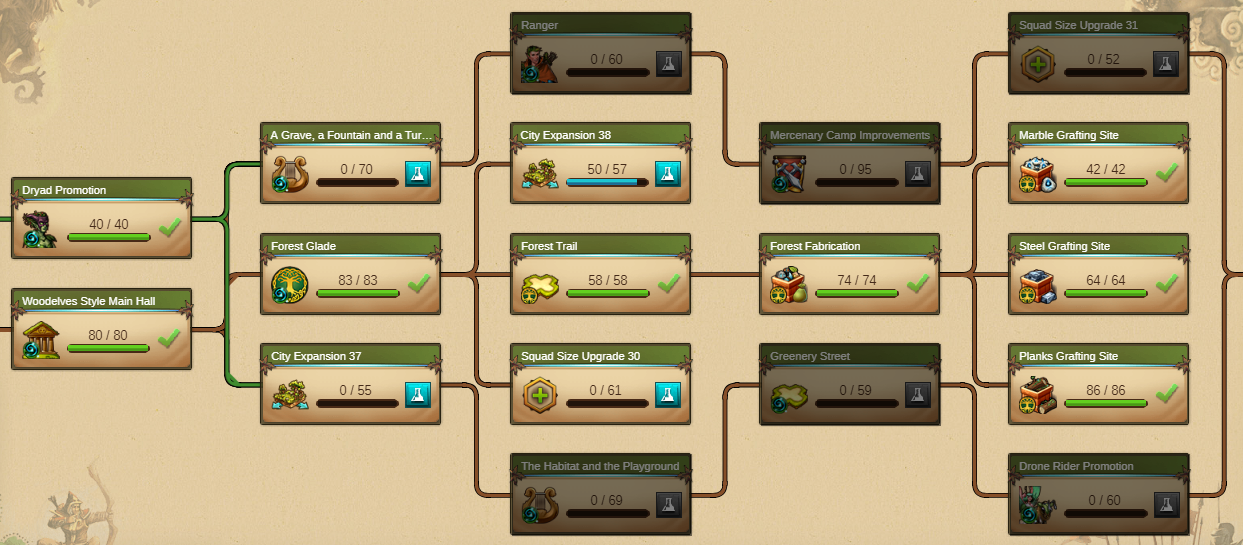 Having said that, now we're getting into a part where research unlock requirements start to ramp up quickly. The good news is that these requirements are spread out to the end of the chapter, and we should have enough mana generation capacity to meet that demand. But we'll have to see if I can manage to ramp up research goods production quickly, or will I still have to use some of the portal profits. We shall see.
ETAs looking good… for now
As you can see, so far ETAs look really good, and we shouldn't have issues with grafting sites production or even mana generation (this still doesn't include Main Hall upgrade and roads though). Forest Fabrications production is lagging a little bit behind, but it will all depend on what the actual KP acquisition rate will be in the end. That's the part that may need a few portal profits, but I have more than enough. I think we will win this chapter! 😉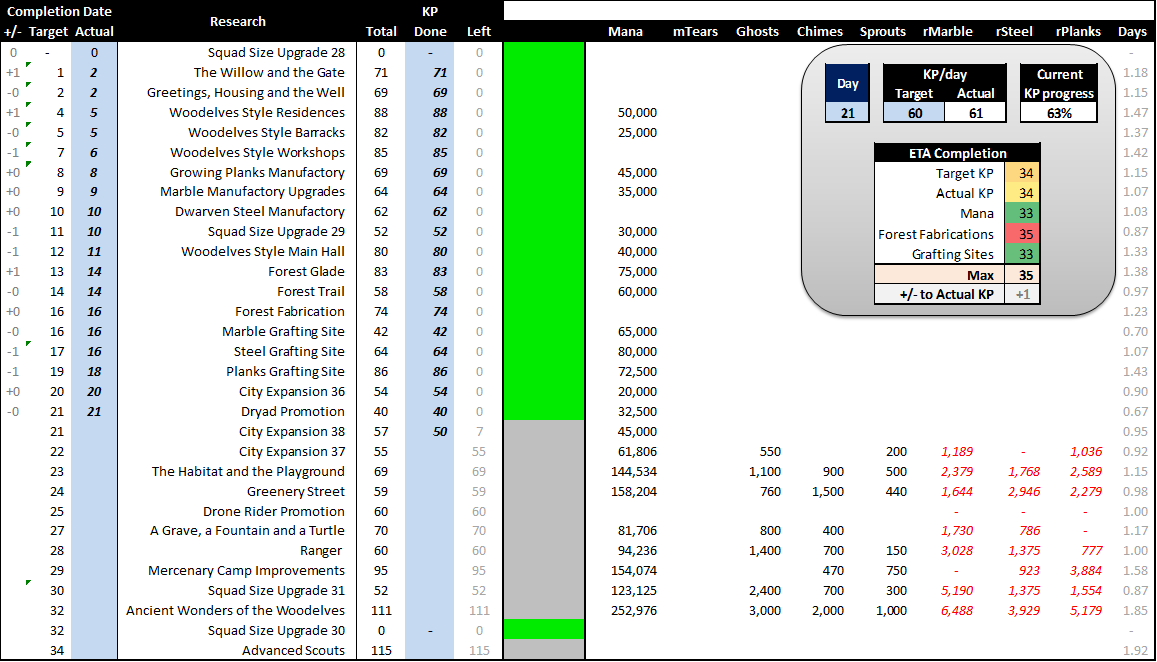 Crystal Tournament – recovery and preparation
Recovery mode is still on from the tournament perspective. Today, I've got yet another Unleashed Unit Upgrade from the Magic Academy! That's 2x UUU two days in a row. On one hand, this is great – I need those. On the other hand, I almost missed it as I was running very low on combining catalysts. You know what the kicker is? The same draw that had the second UUU also had Magnificent Mage Multiplier building! Of course, I didn't have any catalysts to craft this one ;(
But nothing for a week, and then 3 military buildings in 24 hours? Really, game? Not happy about missing that MMM. Oh well, can't win them all.
Everything else is going smoothly, we're on track to get 120+ squads of Elder Treants by the time tournament starts.