So, we're in day 5 of Elvenar Halflings chapter (see previous day at Elvenar Halflings – Day 04). In our tournament today we have made a substitution from Elite Archers to Dryads II. How did that go? Lets find out…
City changes
Today, we have finished construction of all 6 farms that we planned to build – at only L1 for now. And as we have completed the Agriculture research and got some fertilizer, we've built 3x L1 Farms (Grain).
So these are the good news. The bad news are that the event for which I have been building this huge shantytown is not going to start for almost a week. This is a bummer as I definitely need space right now to continue building the settlement. But I also don't want to drag the event for weeks. So I need to figure out how to keep all these saved event production without hampering my settlement construction.
So the first stage of that is removing all the roads. If you take a look at the current shantytown, you will see that with a few exceptions most L1 buildings are no longer connected to roads, and are packed like sardines in a can. This is intentional – once production is completed, there is no reason to keep road connection in place – in fact, disconnecting is beneficial as you're unable to accidentally collect.
This will make collection more difficult as I will need to swap L1 buildings into space that is connected to the road, but I only need to have a single 2×2 space for that. Everything else can be tightly packed. The biggest annoyance with this setup is that you don't know which production you're swapping into connected space – unless you remember or keep records. Or, you know, do the trial and error thing. And there can be a lot of errors here 😉
This compression alone is unlikely to be sufficient. We will have to look at other options very soon…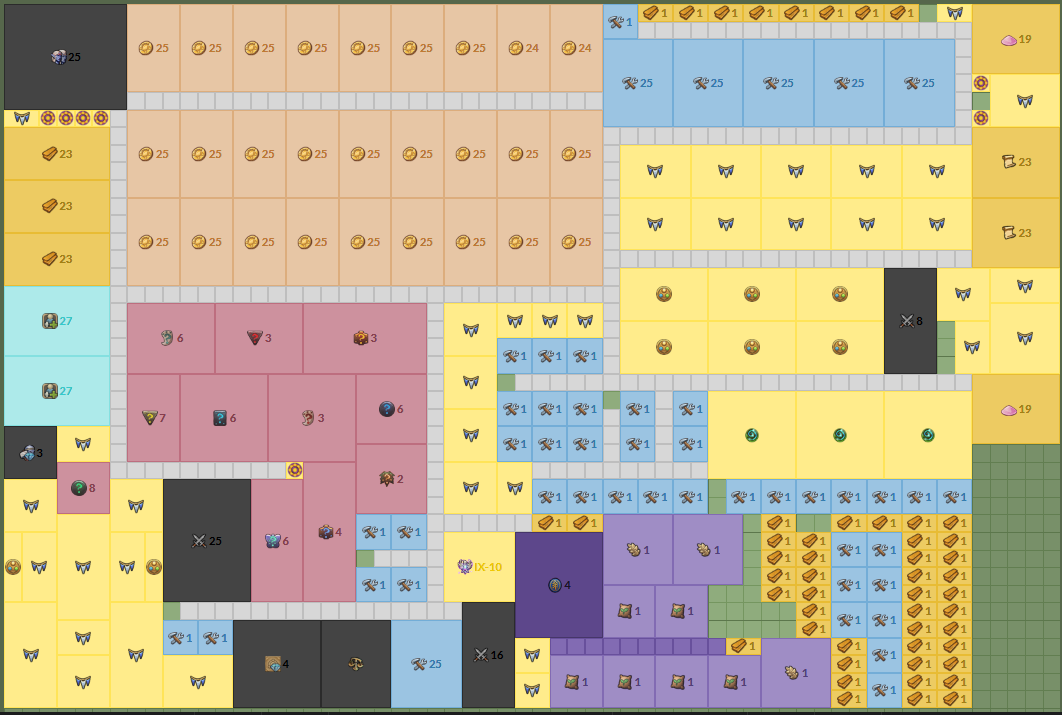 Elvenar Halflings progress
Today we have completed and activated Agriculture tech. With that, we have all we need to construct full Halflings settlement. Well, except all the resources required 😉
This is how our research tree looks like now: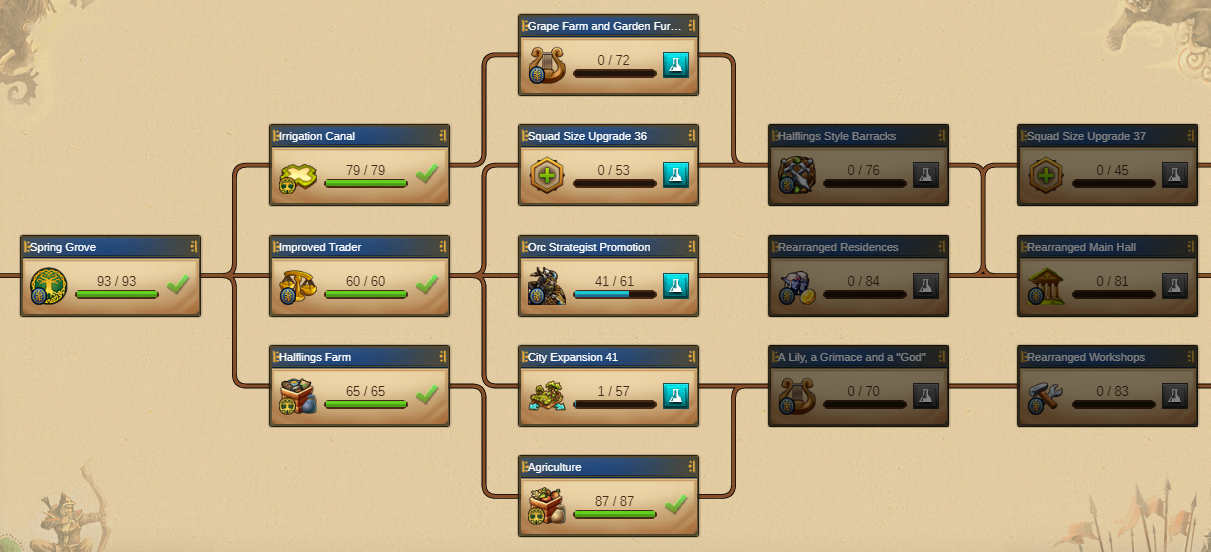 The reason why we're going for the Orc Strategist Promotion tech right now is not because we want to fight with Orcs Strategists 😉 This is to enable out residence upgrade tech ASAP. Until now, builders didn't have much to do, except cleanup from the previous chapter, and some settlement construction. But we ran into settlement construction bottlenecks due to fertilizer and seeds. So builders tend to idle once in a while. Well, once we unlock residence upgrades we will be able to have them occupied for days.
The ETAs do not look bad, but remember, these calculations assume fully built settlement – and we're not quite there 😉 This means we're still somewhat late on farms and fields – particularly fields. So we need to ramp it up ASAP!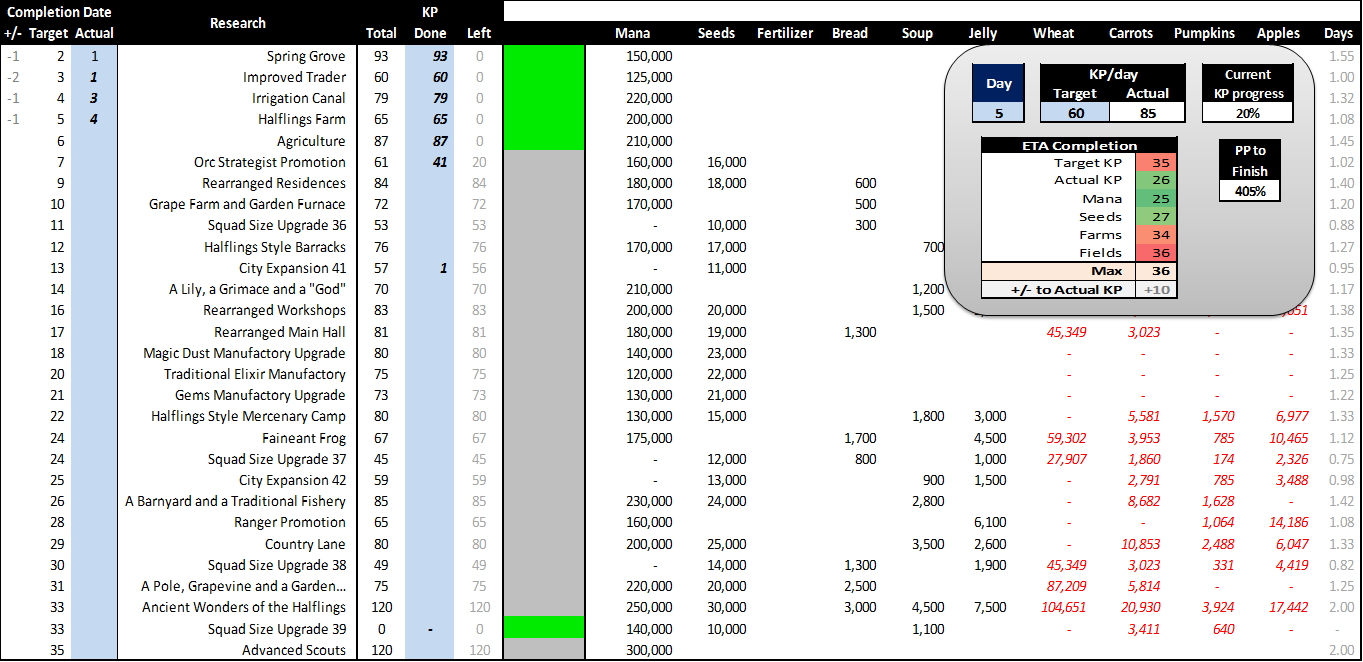 Steel Tournament – 4* day
OK, so today we switched from Elite Archers – who performed amazingly well – to Dryads II. And the results are… inconclusive? If I didn't know that we have switched the primary unit type, I might not have noticed the difference. So the good news – Dryads II didn't do worse than Elite Archers. Who did amazingly well, so there is that.
On the other hand, they didn't seem to be doing better either. And Dryads are still somewhat slower to produce that Elite Archers (especially considering free units from the Shrine of Shrewdy Shrooms).
So let's see if next stages will confirm (or refute) the observations so far. Regardless, we're still doing pretty good, to say the least!