So, we're in day 26 of Elvenar Woodelves chapter (see previous day at Elvenar Woodelves – Day 25). So we've been trying to win the race against tech lock, and it seems that we have lost. Have we? Perhaps we can still win just a few hours – is that possible? But would that even make a difference?..
City changes
We keep working on L23 upgrades for the residences, now we finished half of them. Additional pop capacity allowed us to start upgrading the last planks manufactory to L20. This leaves us with the Mercenary Camp upgrade, which waits for the research to be activated. Also, the last Main Hall upgrade waits for sufficient mana stockpile – which we should get according to the progress projections.
So today was pretty good, right? Wrong! Today was a great day! I managed to convert remaining blueprints into Royal Restoration spells, and upgraded the last of the Frost Carved Christmas Trees to the Woodelves chapter. This means my overall mana generation capacity shot up to ~120K/day, with 3x maxed Christmas Trees providing almost a half of that. Now that rate allows us to comfortably meet this chapter requirements – including the Main Hall upgrades.
Not including road upgrades though. These look pretty expensive in mana costs – we're talking 400-500K of mana for all the roads. That's huge. And culture seems to be plentiful for now, so I see no reason to waste mana on road upgrades.
This also means that I can keep upgrading these trees in the next chapters. Each upgrade takes 18RRs, and bring in significant improvements in mana generation. And I am getting 15RRs a week from tournaments, and each chapter lasts at least 5 weeks. So we will have RRs to spend on some other buildings! This is awesome 😉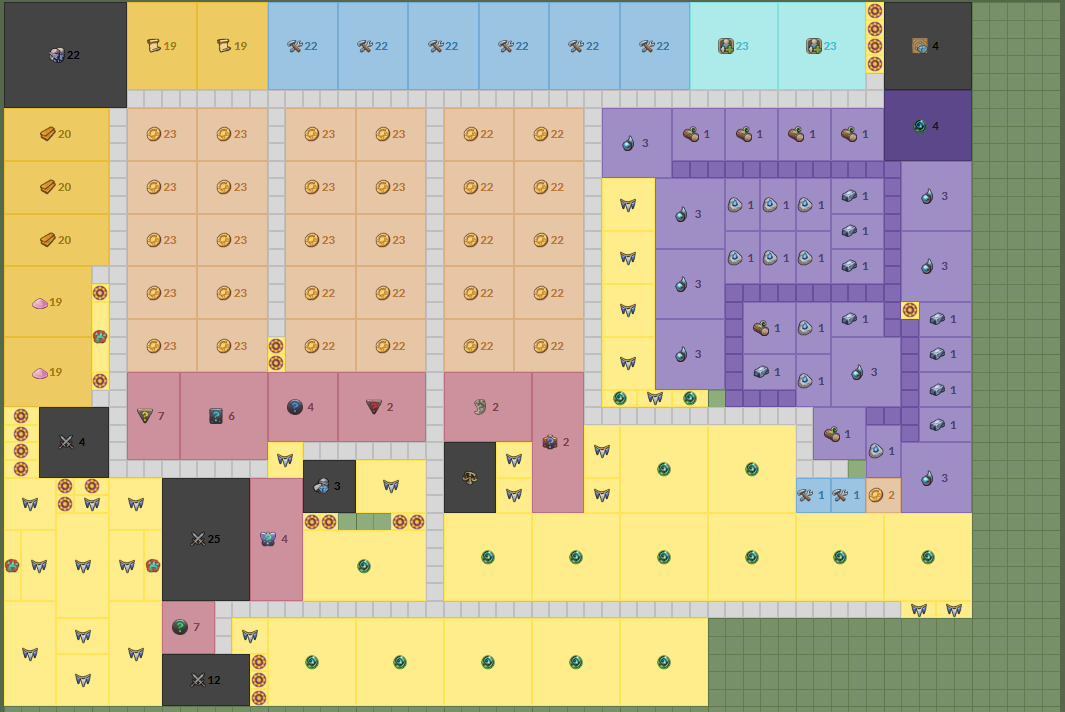 Elvenar Woodelves progress
And so we're going down to the wire. Take a look, this is how a picture of clear and present danger of techlock looks like: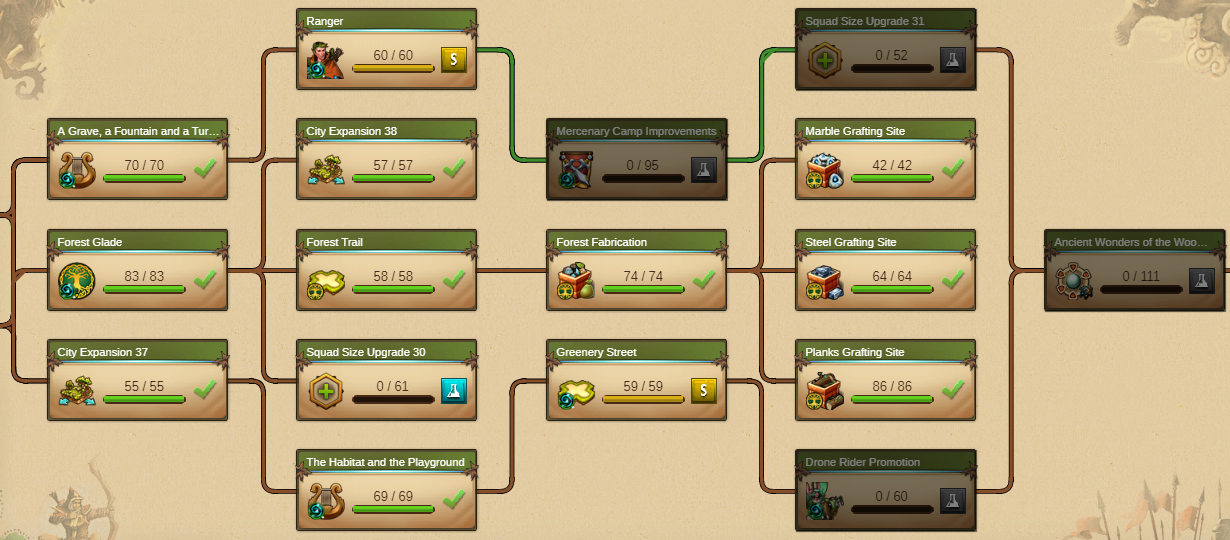 Wait, so have we failed our primary objective – no tech lock? No, not at all. Now would be a time to deploy Portal Profit instant to clear activation for some of the completed techs.
But can we hold out for just a little longer? I am almost there with resources for unlocking Ranger research, and that should give as some breathing room as the next tech can absorb 95 KP. Actually, we can – for a very short time. So I deployed Inspired Meditation spell, and that increased capacity of the KP bar to 20. I haven't used IM spells since the Dwarves chapter 😉 But this is the last reserve before hitting those PP instants. With Inspired Meditation, we may last for several more hours. But this might just be enough, for now!
ETAs look good for everything except Forest Fabrications. But FF deficit is slowly shrinking, as actual KP rate is slowly dropping increasing actual KP ETA (and should continue doing so for several days). So we still might just pull it off!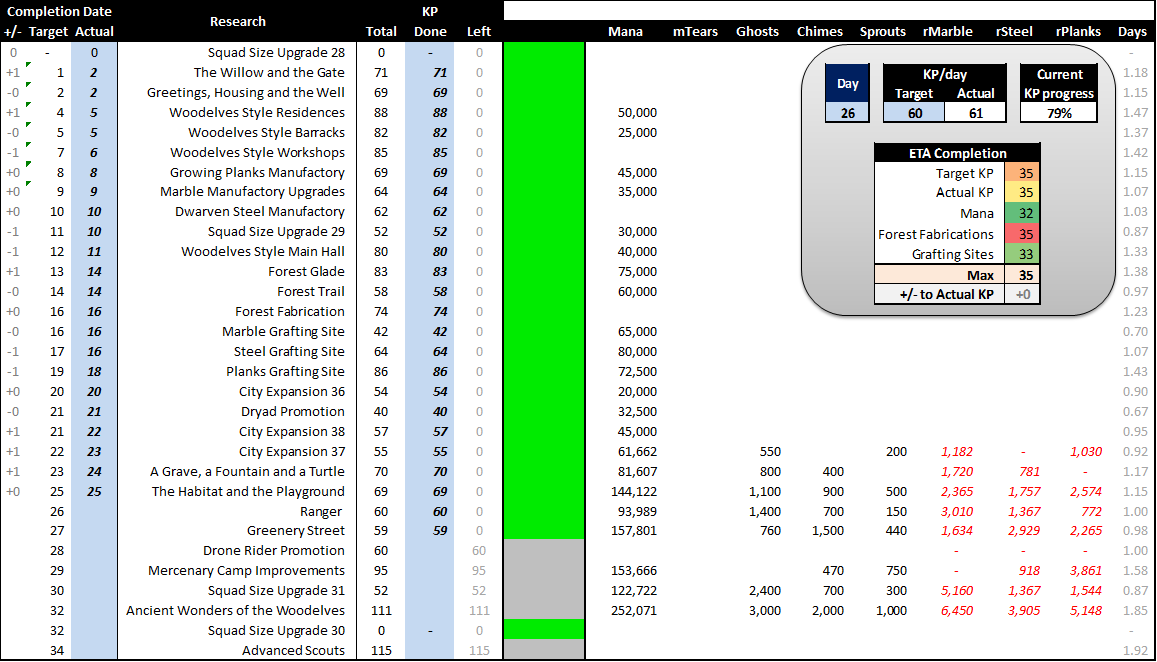 Scrolls Tournament – recovery and preparation
Recovery mode is on from the tournament perspective. Next on the list is scrolls tournament, and it is universally considered to be the most difficult tournament type. And Sinister Cerberus should be a primary unit to fight this tournament. Right? Right?
Perhaps. Or perhaps not. We have left crystal tournament in excellent shape, with almost 92 squads of Elder Treants remaining. The problem is, Sinister Cerberus is not produces in the barracks – this is a Training Grounds unit. We did upgraded TG to the max L12 in the Orcs chapter, but Needles of the Tempest +30% speed bonus only applies to the barracks. But it should still be good, right?
So let's see. Uh-oh. The full 5-slot queue (slightly less than 5 squads now) is done in ~3 hours in the barracks, but it takes almost 5 hours in the Training Grounds. TG units would be produced at half the speed of the barracks! I am still going with the Cerberus as an experiment, but it feels like a terrible mistake already. Even if Cerberus is somewhat better than Sword Acrobat, I strongly suspect it's not twice as good, to account for production rate differences.
Good news is, we can still probably recover well by switching to Sword Acrobats midway. Given the fact that current barracks recoveries exceed losses for almost all stages, we might just cover it without a pre-build. So we'll see – stay tuned!