So, we're in day 32 of Elvenar Sorcerers & Dragons chapter (see previous day at Elvenar Sorcerers & Dragons – Day 31). We continue putting the final touches on our build/upgrade program implementation. But the big news today is that after dumping all those Portal Profits the last few days we have finally caught up with our research goods production. Or have we? 😉
City changes
Today, we have finally completed upgrades to our T1 planks manufactories. All are now at the max available level – L23. And we keep on working furiously on the remaining residence upgrades. There is nothing else left in our upgrade program!
As such, we no longer need pop surplus as we're not planning to build anything that requires pop until the next chapter. So I went ahead and sold 2 of the L23 residences. This is all according to our S&D plan. In fact, we still need to sell another one to achieve our target for the chapter.
This means we dipped into a negative pop – today we're running about -1.5K pop. Nothing we haven't done before 😉 This is not a permanent situation – as we keep upgrading remaining residences, we will naturally get into a positive pop territory again.
But in the meantime, we're filling the freed up space with Arcane Libraries. I have added 3 more, bringing our total number of Arcane Libraries to 5. It's not a huge increase to our overall production (we're already running 200K+ of mana a day), but more mana has never hurt anyone 😉 And I can see a ton of mana that will be needed at chapter transition. So lets keep hoarding!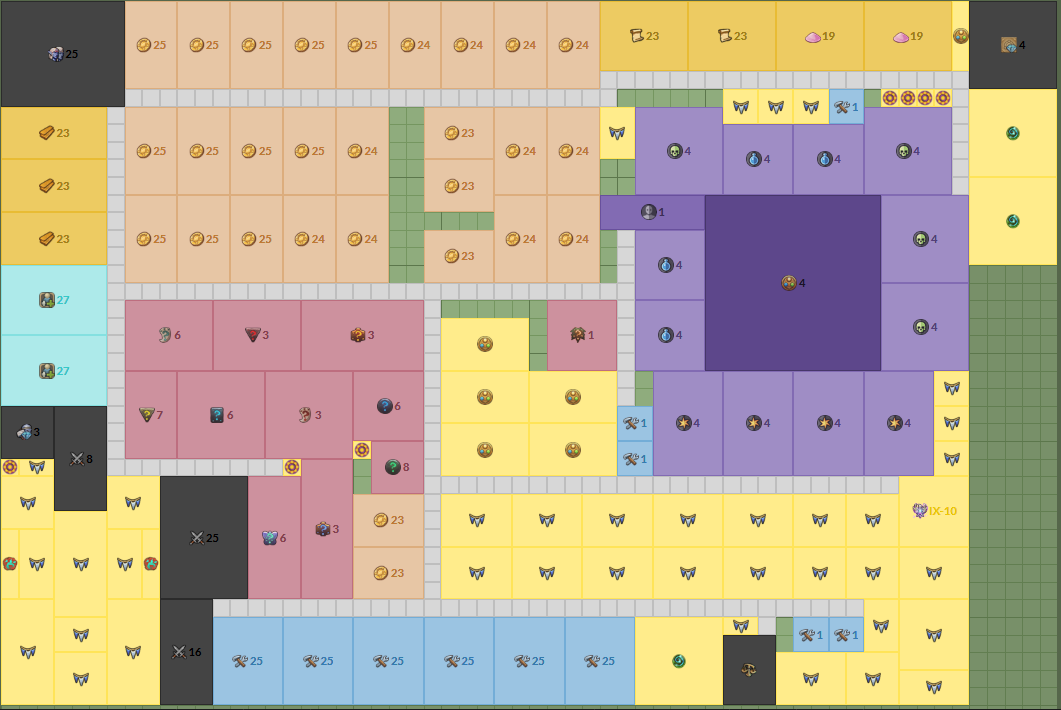 Elvenar Sorcerers & Dragons progress
Today we have activated "Needed Things…" after rebalancing inventory and dropping another 45% worth of Portal Profits. And despite relatively slow KP day, we're already done with KPs for "A Maze…". And you know what that means 😉 Take a look:

Yep, we're in a familiar territory – knocking on tech lock's door. Basically, I am running with Inspiring Meditation again, delaying unlocking "A Maze" for as long as I can while working on rebalancing research goods inventory. With these last 3 techs it is really easy to hit a portal cap and potentially waste some of the Portal Profits benefits.
And look at that! Finally, our ETA Completion projections show that it is our actual KP rate that is the tightest constraint. This is what we ultimately want to see! So, awesome? Well, yes, but not so fast 😉 Current projections are a bit misleading – we're going to get a ton of KPs from the tournament in the next 1-2 days (we've been delaying this for a while). And the last day after the AW tech is always compressed. The reason being is we go an negotiate all the scouted provinces from the whole chapter when we no longer need to be concerned about research goods.
So in reality our true KP ETA is probably about 34-35 days, rather than 38. This means we're still behind by a couple of days, and will need to deploy some more Portal Profits. But we're in the final stretch, that's for sure!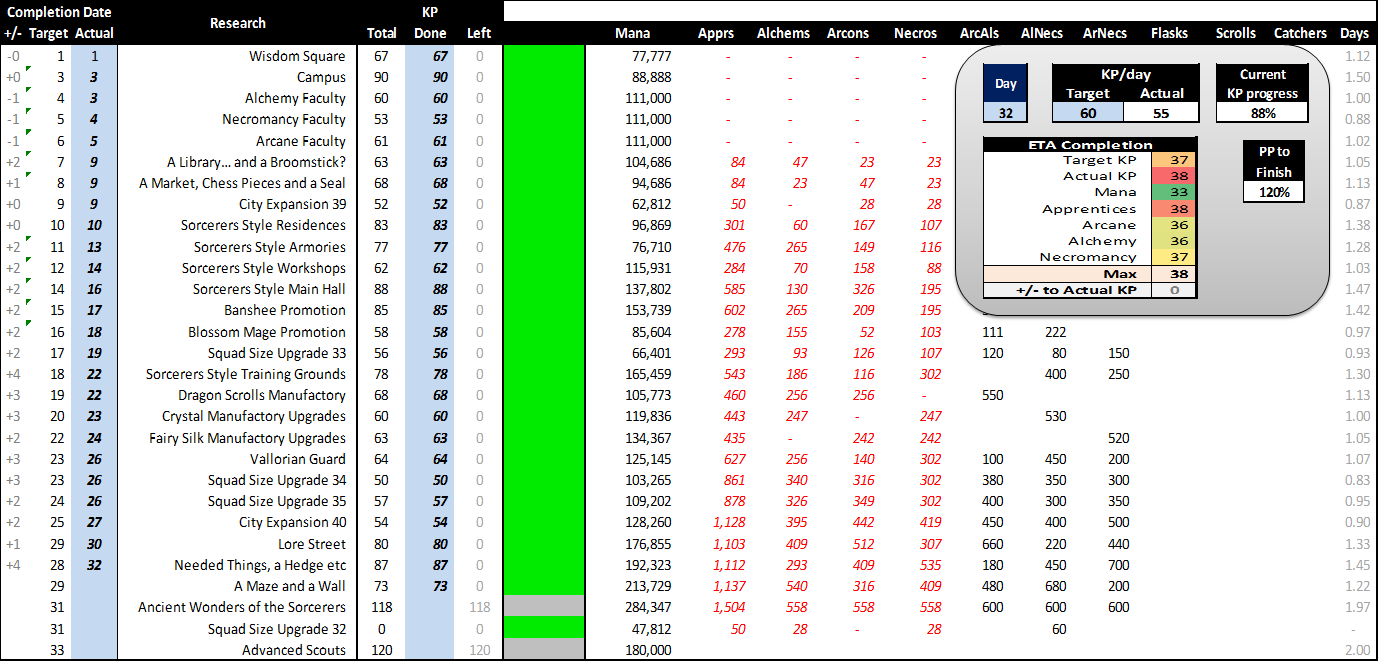 Marble Tournament – 4* day
Things at the tournament are going largely as expected. Our losses increased in 4* stage vs 3* – as they should, but I see no dramatic loss increases. The losses went up from 17 to 22 squads, which is roughly in line with my expectations. Caterings are as expected, and we still haven't experienced any defeats.
So everything is going smoothly, right? Yes, mostly. Unfortunately, our losses now significantly exceed our recovery capability (22 squads vs ~12 squads), and it will get worse. It means we're depleting our troops as we go, and considering that we started with relatively modest troop levels we're still likely to run out of troops at some point in time. We're not quite there yet, but in the optimistic scenario we should be able to run fully fighting up to and including 6* stage. And then KP harvesting stage (13-20 2* provinces) we would do partial fighting, partial catering.
We'll see if we can accomplish that. It is always possible that the last couple of stages will bring some surprises.