So, we're in day 23 of Elvenar Woodelves chapter (see previous day at Elvenar Woodelves – Day 22). Construction of Woodelves settlement is finished – at least for now. Wohoo! We're producing at target speed, but are still slightly behind schedule on Forest Fabrication productions. I might have a way to deal with this that doesn't involve Portal Profits…
City changes
And so it is done. My Woodelves settlement has finally reached its target form of 8L3/9/9/6, as per the plan. So now it's all about production of goods in the settlement – a click/collect exercise 😉
That is, unless I decide to upgrade a few FFs to L4. As I have mentioned in the update yesterday, we might be a bit behind on FF production, and slightly ahead on GS production. Well, we can try to equalize! If we overproduce and accumulate enough refined goods, we can dump these into FF L4 upgrade. One L3->L4 upgrade is an equivalent of adding another 0.25 of L3 FF to production but also at the cost of idling it while it is being upgraded. Upgrade takes about 8 hours, and that production can be covered with an increase in 8hr/0.25 = 32hr. So time-wise, if we initiate L3->L4 upgrade, we catch up on FF production after 8hr+32hr = 40hr. And we obviously do better after 40hr.
So if we have more than 40 hours, or let's round it up to 2 days, left to produce, it makes sense to do L3->L4 upgrade. That is assuming that you can afford the cost of extra refined goods, which is significant. Basically, I expect to see excess of refined goods to build up (see projected ETAs on GS), and once I have enough excess (and more than 2 days left to produce) I will kick off an L4 upgrade. That's the plan.
This might not be really necessary depending on final actual KP rate. Also, I can easily address it with extra Portal Profits, but why if I don't have to? 😉
In other news, I started to build another Weeping Willow in the final research expansion that I activated. Otherwise, it's back to upgrading residences…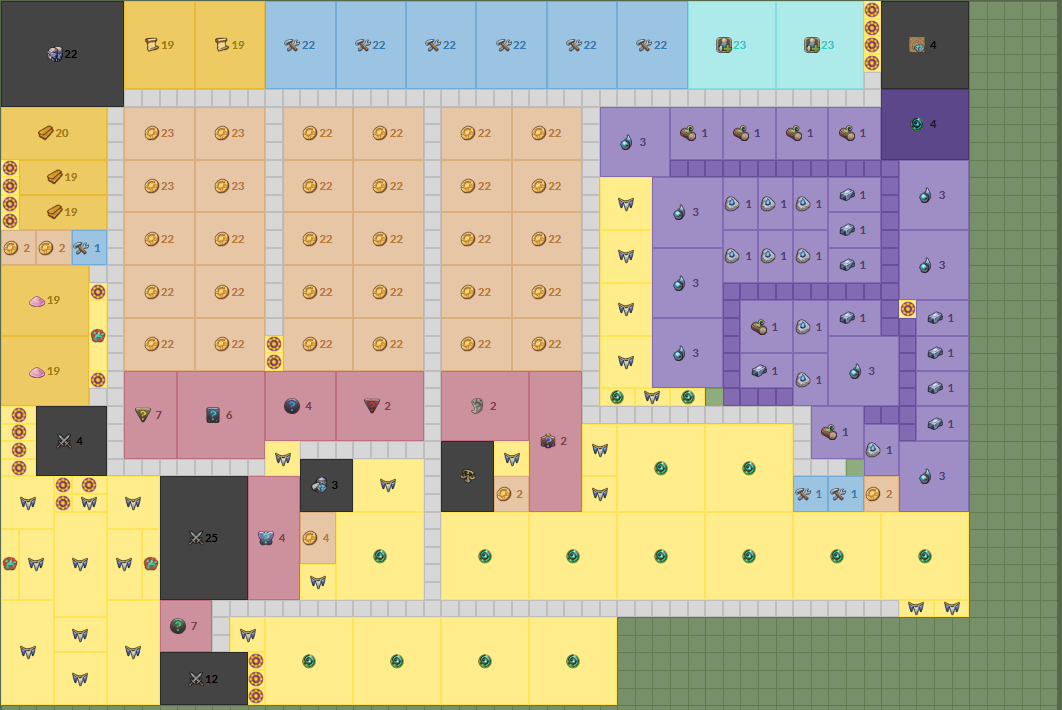 Elvenar Woodelves progress
Today we crossed 2/3rds mark of the chapter progress, and overall we're spot on according to our plan. The small differences are not significant comparing to the number and magnitude of assumptions that we were making. This is excellent! Now the most uncertain part of the plan – settlement construction and upgrade – is done. The rest of the progress is fairly certain, and primarily depends on my ability to collect settlement goods according to schedule.
Basically, unless there are some unforeseen circumstances, I am fairly certain that we can close this chapter +/- 1 day to the current projection of 35 days. The projections look suspiciously accurate. Perhaps too accurate… I got a feeling there might be some monkey wrench thrown in at the chapter end. Ah well, that's why we have those Portal Profits for 😉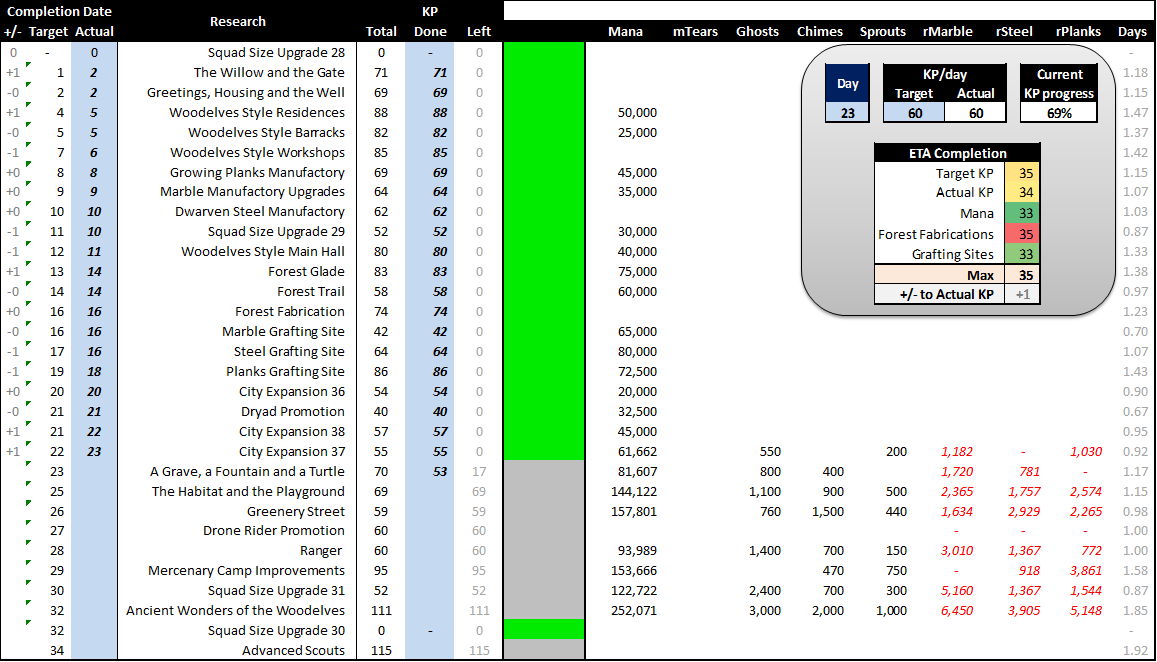 Crystal Tournament – 2* and 3* Day
Today is the 2* and 3* day of the crystal tournament. This time, we did it differently comparing to the previous couple of tournaments. You can see that previously, I'd complete 20 provinces to 2*, and then switch to 12 provinces for 3* onward. Well, that's what I do when I want to accelerate KP acquisition. Now, when I want to delay that, I only do provinces 1-12 to 2* on the second day (and 3* is basically the same).
I will still do provinces 13-20 to 2* (so I am not just dropping those KPs 😉 ), but I will do so on the last day of the tournament. These provinces bring extra 40KP, so this way I am delaying 40KP by 3-3.5 days.
We'll see if I'll be able to handle the influx of all those KPs in a few days… 😉